Access for All - West Pokot, Kenya
West Pokot, at the edge of the Rift Valley in Kenya, where luscious green mountains meet scorched savannah. The Kenyan Ministry of Health is supporting families with malnourished children across the county. Despite the availability of health services the semi-nomadic Pokot population faces many barriers accessing treatment.
Rains have been sparse in West Pokot, and Depa's corn field is scorched and ruined. Like many, he faces an uncertain year ahead with little food to provide for his family. He has some livestock left, which he will need to sell to buy food. With poor rains and ruined crops, malnutrition is a big concern in the region.
Action Against Hunger has conducted a coverage assessment to determine the percentage of malnourished children who need treatment that is actually receiving it. Diagnosis is made by carrying out home visits and measuring children's Mid-Upper Arm Circumference (MUAC). If a child is not accessing treatment, the aim is to understand why and explore options to encourage families to take their children to the health centre

Throughout the assessment Action Against Hunger trains teams from the Ministry of Health and other NGO's on how to use coverage assessment tools. As part of the Coverage Network, humanitarian agencies are uniting together to assess nutrition programmes and adapt them to the individual needs of communities to improve their impact.

The problem for Nancy and her twin girls, both suffering from severe acute malnutrition, is the distance she needs to travel week after week to the Chester distribution centre to collect supplies of Ready-to-Use Therapeutic Foods. The round trip takes her up to seven hours, carrying both children – one on her front and the other on her back.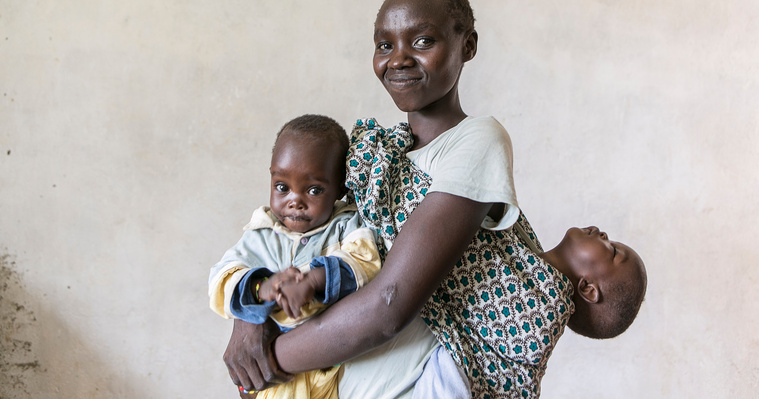 Mary has been at the stabilisation centre in Sigor for three weeks with her son Peter, who has severe acute malnutrition – the most deadly form of hunger. Her biggest concern is leaving her other children behind at home. She is worried about how they are and if they are getting enough food to eat while she is gone.
The time the mother spends at the stabilisation centre with her little girl Irene is precious time away from working in her crop fields, which may mean less food for her family in the coming weeks.
Action Against Hunger brings women together in self-help groups where they learn from each other about identifying malnutrition, how to prevent it and how to overcome barriers to access to health services.

Once the barriers to accessing treatment have been identified, Action Against Hunger then focuses on solutions, which could be creating more health centres in hard to reach areas, training more Community Health Workers or changing parts of how the service works.
Eventually, the aim is for every child who needs treatment to be able to access it and for the Ministry of Health to take over full ownership and implementation of nutrition programmes across the region.